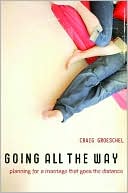 Craig Groeschel is the founding pastor of LifeChurch.tv in Edmond, OK. Under his leadership, LifeChurch.tv has become one of the country's first multi-campus churches, with over fifty weekend worship experiences currently at eleven different locations throughout the United States.
Craig is one of the few mega-church pastors that actually responds to his blog. When you read his blog, he actually reads it and even comments back. What a concept! He also takes certain weekends where he prays for those who read. I had the privilege of meeting him for a few moments at Catalyst back in October. Craig is real and it comes through in his blog, his Biblically inspired messages and his books. I read Chazown last year and it really inspired me to find out who Craig was. I began listening to his messages and reading and participating in his blog. Craig is one of the most passionate and dynamic speakers I have ever heard. I've always been a huge fan of Andy Stanley but Craig is now up there with him in my book. Craig's message on Practical Atheism was one of the most powerful messages I've ever heard.
Now to the book Going All the Way. This is a great book about preparing for a marriage that goes all the way–in other words a marriage that lasts! This book had me literally laughing out loud as I read it. He gets you laughing and then sticks you with an important point. Then he gets you laughing again. But through it all I was challenged Biblically to have a marriage that goes all the way.
Craig is open about his life before Christ and how it was filled with promiscuity. Then God rocked his frat world when he was forced to lead a Bible Study because they were on probation. Even though he was not a believer, God used His word to penetrate Craig's heart and Craig accepted Christ. Then Craig decided because of his past he would "date" Jesus for a year. When it was finally time to start dating in a Biblical way many girls thought he was too out there. One young lady told Craig he needed to date a girl named Amy Fox. He said "fox" was a sign from God. Anyway after a few months Craig finally called Amy and left a message on her machine that was actually played at their wedding.
" Hey you Christian Babe, take me to church or lose me forever!"
Yes it is that kind of book. Craig deals with preparing for marriage, engagement and what to do after you get married. By the way he and Amy have 6 children because Craig says his wife can't keep her hands off him! He talks about remaining pure before marriage or if you were like him and messed up that God can begin again today. This will be a book I will use for pre-marital counseling in the future. It was a great read and I highly recommend it to those who are single and feel you will get married someday, those who are married and want a better marriage, those who need improvement in your marriage and pastors to use in counseling.
Going All the Way receives 4.71246 hockey sticks out of 5. (That's for Phil Hoover)
BTW: I've had a little extra time to read this week.